Google Analytics has been the go-to analytics tool for website owners and digital marketers. But, with so many alternatives now available, it can be hard to know which one is right for you. Find out in this article how you can replace Google Analytics with 6 different alternatives that could be a better fit for your needs!
Introduction to Google Analytics
Google Analytics is the most popular website analytics tool on the market. But it's not the only option—there are a number of Google Analytics alternatives that offer different features and benefits
Google Analytics is the most popular web analytics tool on the market. According to BuiltWith, it's used on over 50% of the top 10 million websites.
That doesn't mean it's the best tool for everyone, though. In this post, we'll introduce you to some Google Analytics alternatives and when you should consider using them.
Pros and Cons of Using Google Analytics
Google Analytics is a popular web analytics tool that helps website owners track and analyze their website traffic. However, there are some pros and cons to using Google Analytics that you should consider before using it on your own website.
PROS:

1. Google Analytics is free to use.
2. Google Analytics provides a lot of useful data about your website traffic, including detailed information about where your visitors come from, what they do on your site, and how long they stay.
3. You can use Google Analytics to track conversions and goals, so you can see how well your website is performing in terms of meeting your business objectives.
CONS:

1- Google Analytics requires you to have a Google account, which some people may not be comfortable with.
2- The data collected by Google Analytics can be used by Google to target ads at you, which some people may find intrusive.
3- Google Analytics can sometimes be inaccurate, especially when it comes to tracking unique visitors.
4- Google Analytics processes all the information it can without regard to the privacy of users, collects personal and identification data (PII) piece by piece. This makes it a full-fledged violation of web users' privacy.
5- Google Analytics shares the analytical data of the websites with other companies and advertising companies. The data is extracted and processed to offer personalized services and products. Your website data becomes profitability for Google and others.-Google Analytics collects identifying data from visitors, it creates a regulatory compliance liability for any website that makes use of GA. Recently the Italian, Austrian and French data protection authority (DAP) have ruled that Use of Google Analytics is illegal under the GDPR.
6- The Google Analytics script weighs a total of 45.7 Kb (28 Kb Google Tag Manager and 17.7 Kb Google Analytics)
7- Google Analytics is not easy to install. Its complex operation makes adding a new website take hours, yes you read that right, hours. If this is your first time in Google Analytics, you will have to go through countless screens with questions and options that are not easy to answer without first taking a course or reading any tutorial.
8- Google Analytics is free for life but remember that you are already paying with your data. If you have a website with 10 million visits per month, you will have to upgrade to Google Analytics 360, which can cost up to 150,000 euros per year.
Alternatives to Google Analytics
There are many reasons why you might want to consider alternatives to Google Analytics. Perhaps you're concerned about data privacy, or you want more control over your data. Maybe you're simply looking for a change.
Whatever the reason, there are plenty of great alternatives to Google Analytics out there. Here are a few of our favourites:
1- Analyzati
Our first alternative in the list is a simple and powerful analytics tool for tracking any website without compromising the user's privacy. Analyzati is a privacy focused website analytics that provides valuable information about any website visitors. Information such as number of visitors, pageviews, marketing campaign tracking, events tracking, languages, devices, location, etc.
Analyzati never collects any personal information, any IP or any cookie. Is fully GDPR, PECR and CCPA compliant.
If you are looking for an easy to install and an easy to use alternative,  Analyzati is the right option. They offer a freemium plan that allows measuring til 1k pageviews per month, so for new websites is a great start. And if you have more traffic, you can start tracking til 50k pageviews/month at 2,95€ per month.
2- KISSmetrics
KISSmetrics is a powerful alternative to Google Analytics that offers a more comprehensive approach to data collection and analysis. With KISSmetrics, you can track individual user behavior across all of your digital channels, allowing you to identify trends and optimize the customer journey.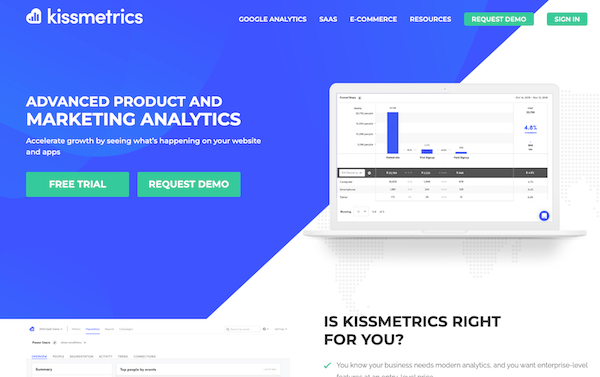 KISSmetrics also provides advanced features such as cohort analysis and event-based tracking, making it a great choice for businesses that need more than just basic web analytics. If you're looking for a Google Analytics alternative that can give you deeper insights into your customers and their behavior, KISSmetrics is definitely worth considering.
3- Matomo
Matomo is an analytics platform that you can self-host on your own server. It's a great open source alternative to Google Analytics, and it gives you full control over your data.
Matomo has all the features you would expect from a robust analytics platform, including custom reports, real-time data, and e-commerce tracking. It's also easy to install and use, making it a great option for those who are looking for an alternative to Google Analytics.
4- Clicky
Google Analytics is the most popular web analytics tool on the market, but it's not the only option. If you're looking for an alternative to Google Analytics, there are a few options worth considering.
Clicky is one of the most popular alternatives to Google Analytics. It offers all of the basic features you'd expect from a web analytics tool, plus some advanced features that make it worth considering as a replacement for Google Analytics.
5- MixPanel
If you're looking for an alternative to Google Analytics, MixPanel is a great option. MixPanel offers many of the same features as Google Analytics, including event tracking, conversion tracking, and goal setting. However, MixPanel also offers some unique features that make it worth considering as an alternative to Google Analytics.
One of the biggest advantages of MixPanel is its focus on engagement. With MixPanel, you can track how users interact with your app or website in real-time. This allows you to see which features are being used most and which ones are being ignored. This level of insight is invaluable for making sure your app or website is engaging users and meeting their needs.
Another advantage of MixPanel is its ease of use. The interface is very user-friendly and easy to navigate. This makes it a good choice for businesses that don't have the resources to invest in a more complex analytics platform.
Overall, MixPanel is a great alternative to Google Analytics. If you're looking for an analytics platform that offers more insights into user behavior and is easier to use,MixPanel is worth considering.
6- Woopra

If you're looking for an alternative to Google Analytics, Woopra is a great option. Woopra is a real-time web analytics platform that provides detailed information about your website visitors. You can track visitor behavior, see where they came from, and even view their screen in real-time. Plus, Woopra integrates with numerous other platforms, making it a versatile tool for tracking your website's performance.
All of these alternatives have their own unique set of features, so it's important to compare them before choosing one for your website or blog.
Conclusion
Replacing Google Analytics with an alternative is not always easy, but there are plenty of great options available. With the right choice, you can get all the data that you need to make informed decisions about your website and business without sacrificing any functionality or features. We hope this article has given you some ideas for which analytics tool might work best for your needs and helped make the process of replacing Google Analytics a little easier.