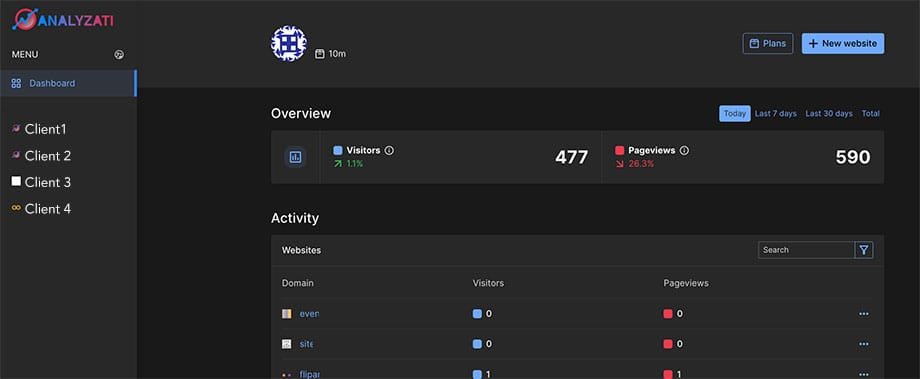 Analyzati has become the ideal solution for freelancers and agencies that have decided to leave Google Analytics behind.
It is nothing new that Google Analytics is being abandoned by hundreds of thousands of professionals in the world due to its complicated operation and its management of personal data and privacy.
Analyzati is a web analytics solution created under the motto privacy and simplicity. And for freelancers or agencies who wish to migrate their clients to a secure platform that is very easy to implement, Analyzati is undoubtedly the most interesting option on the market.
Analyzati allows you to manage all the clients of any freelance professional or agency from a simple dashboard and allow access to clients with just one tick.
The main benefits for freelancers and agencies are:
Guarantee compliance with the GDPR since all data is processed in the EU and Analyzati does not collect IP's or fingerprints
No need to install cookie banner
Optimize the loading speed of customer websites. The Analyzati script weighs less than 1kb
Customer management from a single dashboard
Integration with Google Tag manager for easy integration
Allow customer access to analytics securely with a password
The dashboard has been designed with simplicity and is easy to understand for non-tech users.
If you manage clients and their web analytics, Analyzati is the best option that will allow you to focus on the most important tasks of your business and forget about long hours of work configuring Google Analytics.
Try Analyzati right now and discover the potential for freelancers and agencies.